Trenchless Pipe Repair Services
The Top Expert for Trenchless Pipe Repair in Owosso, MI, and Nearby Areas
Most people, if not all, would prefer not to have a beautiful landscape destroyed when there's a need for sewer or water line repairs. Fortunately, this is something you can avoid by contacting Sloan's Septic Tank Service. One of our specializations is trenchless pipe repair in Owosso, MI, and nearby communities, a cost-effective approach to pipe restoration we offer in all areas we serve.
Trenchless Pipe Repair Owosso, MI
Understanding Trenchless Technology
Trenchless technology was first developed in the 1970s. It has since been fine-tuned to the point where it's much more reliable and affordable. We have the skills and modern equipment required to repair and restore sewer and water lines with dig-free methods.
Rehabilitating sewer pipes through the use of trenchless methods has grown in popularity in recent years. One approach is re-lining the damaged pipe with an inner pipe lining material. Cured-in place or CIPP pipe lining, for one, allows us to repair pipes from within by inserting a liner through an existing entry point. The liner is impregnated with resin, which hardens and creates a stronger pipe.
Factors to Consider before We Recommend Trenchless Repairs
There are many times when trenchless sewer repair can be made. However, it's also important to make sure trenchless methods are appropriate. We do this by inspecting the pipe first. In order for trenchless repairs to be made, the pipe needs to be stable. Other factors to consider before we recommend trenchless repair include:
The overall condition of the pipe
Whether or not repair is more cost-effective than replacement
The Process We Follow
As we mentioned above, we will have to inspect the water or sewer line first. If conditions are suitable for trenchless repair, we proceed with cleaning the affected pipe. Our experienced pipe rehabilitation company then inserts a liner into the pipe so a durable coating can be applied to the inside of the pipe. What this does is create a solid new inside surface that's free of flaws. Our full range of trenchless services include:
High-speed pipe descaling
The Benefits of No-Dig Repairs
Trenchless pipe repair is extremely beneficial. The work area is limited and the work itself is often completed within a day. It's also a highly flexible process in that many types of sewer and water lines can be repaired and restored with trenchless techniques. What's more, the newly applied coating is extremely durable and resistant to damage. This means results are long-lasting, which further maximizes your savings.
Extensive digging is not a part of this process, so you can expect that not only will the repairs be quicker but the cleanup as well, if any. Take note that traditional repair projects could take several days.
Many properties have sewer lines running under beautiful and expensive landscaping. Rest assured that our minimally invasive repairs also preserve the surrounding landscaping. We may only require small holes to access the sewer pipe. Thus, we get to complete the job in a streamlined process. That also makes our methods environmentally friendly, eliminating any risk of hitting another line.
You can also expect a more cost-effective solution. While sewer line issues are usually the most expensive problems homeowners face, the use of trenchless methods means less labor is necessary. That in turn reduces the actual cost. Additionally, our repairs always bring long-term benefits, as these liners and piping will not suffer from rust or corrosion, allowing them to last up to 100 years.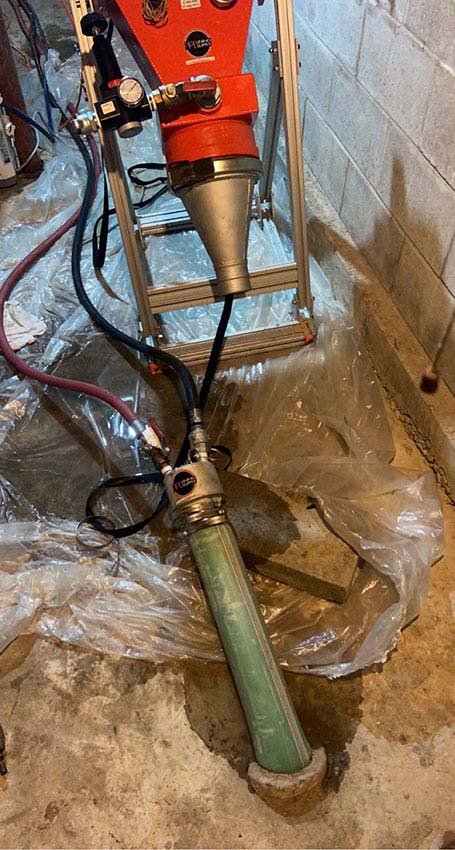 Trenchless Pipe Repair FAQs
Why Choose Our Team
We've been wowing our clients with A+ service and sensible solutions since 1965. In fact, our team has 80-plus years of industry experience you benefit from any time you contact us. Choosing our team for your trenchless pipe repair needs comes with additional perks that include:
State-of-the-art technology

24/7 emergency assistance

"Definitely 5 stars! Came so fast to hep us on a Saturday and got our sewer cleaned out! HIGHLY RECOMMEND!"
"Nothing but great things to say about Sloans!! Called on a weekend and they were at our house on the following Monday. Extremely friendly, professional and knowledgeable. Highly recommend them!!"
"Great service and great price. Very professional."
"Fast friendly service. Came out next day and did a great job."
"I was so impressed with Sloan's and how quick the company came out to assist along with having a friendly and professional presence. They took the time to help me understand what the underlining issues were and helping me find a good solution. I definitely recommend their services."
"Thank you to Justin for coming to fix our sluggish toilet. He was knowledeable, friendly, timely and quick. A family business which he is 4th generation. Awesome service. Thanks again. I am definitely recommending. They are out of Chesaning"
"Awesome experience and highly recommend whether it be septic or plumbing! Called after hours due to all of our drains backing up and they were out within the hour. They had the blockage cleared out quickly and handled everything thoroughly. Thanks again Sloan's!"