The Top Name for Drain and Line Cleaning in Owosso, MI, and Nearby Areas
Drains and pipes play an important role in both residential and commercial properties. Understandably, not much thought is given to these pipes when everything is functioning normally. Avoid unexpected drain and line issues by contacting Sloan's Septic Tank Service to schedule regular cleanings in Chesaning, MI, and nearby areas.
When Cleaning Necessary
Drain cleaning is necessary when you start seeing signs flow is blocked or disrupted in some way. The first indication is usually noticeable odors from your drains. Cleaning is also necessary if you're noticing slow drainage or having trouble using them. Common drain issues and the related causes include: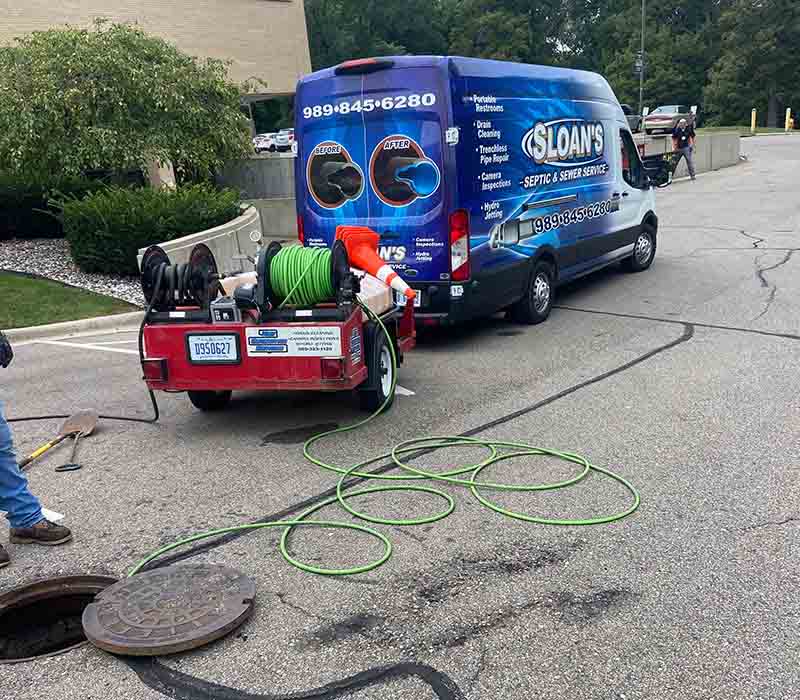 Odors:
These are often caused by some type of obstruction. This can happen from an accumulation of debris, a buildup of hardened minerals, or solids that shouldn't be put down drains.
Backups/clogs:
In addition to what we mentioned above, drain backups and clogs are sometimes caused by tree or shrub root intrusions and materials that don't fully break up.
Leaking:
Any type of drain pipe can crack or break over time. This is more likely to be the case if the pipes are made from corrosive materials like cast iron. Lack of regular maintenance can also contribute to structural damage.
The sewer system plays a huge part, as well. If anything malfunctions, you may hydro jetting from our team. There are various reasons why your sewer may get clogged.
Broken Pipes
One of the leading reasons behind blocked pipes is that there is a break somewhere. When a pipe breaks in your sewer line, sewage cannot properly drain.
Flushing Items That Shouldn't Be Flushed
It's important for everyone to know what should and shouldn't be flushed down the toilet. Many people make the mistake of flushing things like feminine hygiene products, paper towels, cleaning wipes, and facial tissues. However, the only items that should ever be flushed are human waste and toilet paper. Everything else can lead to a clog that can damage your sewer line and require a drain inspection to pinpoint the problem.
Tree Roots
A tree root invasion can cause a clog in your drain and sewer system. When trees crave water and fertilizer, their roots can spread surprisingly far and end up infiltrating your sewer line, causing damage. Over time, the roots cause a huge clogging issue.
What to Expect
The cleaning process typically begins with a camera inspection. This is advisable to identify problem areas so the most appropriate cleaning method can be used. Drain cleaning can involve hydro jetting when stubborn or accumulated debris needs to be flushed out. This specific pipe cleaning method relies on highly pressurized water removing even the toughest blockage in your pipes.
The process calls for a nozzle that we place at the cleanout. This then releases a powerful jet of water through the pipes. Hydro jetting can involve up to 3500 psi of water, which is enough pressure to clean drains and pipes thoroughly.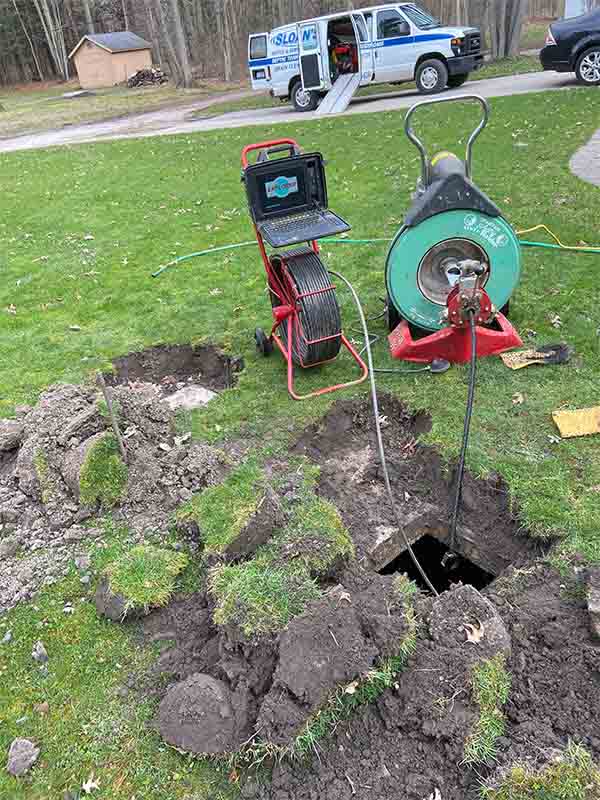 What We Check
We check for anything that's obstructing flow in drains. This includes looking for structural issues and related problems with tree root intrusions. Our local experts also check for mineral or scale buildup and any accumulated debris within the line.
We recommend scheduling drain and line cleaning every two to three years so we can be sure that your pipes are not clogged as well as eliminate invasive tree roots.
Prior to performing hydro jetting, our team can perform a camera inspection of your drain line. In doing so, we can determine exactly where your problem areas lie and if there is any risk for corrosion, leaks, or tree root invasion.
Drain/Line Cleaning Benefits
Experiencing fewer drain-related problems
Improving drain efficiency
Extending the life of drain lines
Reducing the risk of pipe emergencies
Ensures an environmentally friendly solution
Provides a more cost-effective cleaning approach
Offers a more thorough cleaning
Assures you of greater versatility, able to address residential and commercial needs
Prevents bigger issues, making it a great preventative maintenance service
Let Our Experienced Team Provide The Solutions
Sloan's is proud to be a fourth-generation company that's been addressing the different needs of residential and commercial clients since 1965. Working with our team means benefiting from our 80-plus years of industry experience along with:
Cost-effective, longer-term solutions

"Definitely 5 stars! Came so fast to hep us on a Saturday and got our sewer cleaned out! HIGHLY RECOMMEND!"
"Nothing but great things to say about Sloans!! Called on a weekend and they were at our house on the following Monday. Extremely friendly, professional and knowledgeable. Highly recommend them!!"
"Great service and great price. Very professional."
"Fast friendly service. Came out next day and did a great job."
"I was so impressed with Sloan's and how quick the company came out to assist along with having a friendly and professional presence. They took the time to help me understand what the underlining issues were and helping me find a good solution. I definitely recommend their services."
"Thank you to Justin for coming to fix our sluggish toilet. He was knowledeable, friendly, timely and quick. A family business which he is 4th generation. Awesome service. Thanks again. I am definitely recommending. They are out of Chesaning"
"Awesome experience and highly recommend whether it be septic or plumbing! Called after hours due to all of our drains backing up and they were out within the hour. They had the blockage cleared out quickly and handled everything thoroughly. Thanks again Sloan's!"